Rain, Rain, Don't Go Away
Many cultures have deep-rooted beliefs that rain on your wedding day is a symbol of good luck. Rain represents things like abundance, fertility, and purity. What better way to begin this next chapter of life? It's important to prepare for unexpected weather, and dare I say, even embrace it. Live out your romantic dreams by welcoming the rainy atmosphere. Picture every heartfelt kiss in iconic movies—The Notebook, Spiderman, and Breakfast at Tiffany's all feature iconic smooches in a complete downpour. If you're still stressed out about the possibility of rain, despite its symbols of good luck and iconic romantic undertones, here is a guide to help you plan a rainy-day contingency plan for your big day.
1. Design Weatherproof Décor
This is a big one. Whether your wedding is indoors or outdoors, your décor is still going to be subjected to the elements while being transported in and out of the venue. If your décor isn't waterproof, consider renting a big tent to make sure décor and guests stay dry. Lighting is essential when preparing for a rainy-day wedding. Waterproof lights can instantly transform a rainy and dim space into a lush and exuberant one.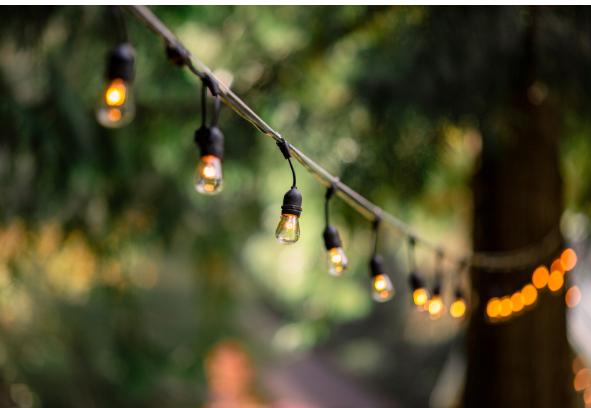 2. Style Bridal Party Accordingly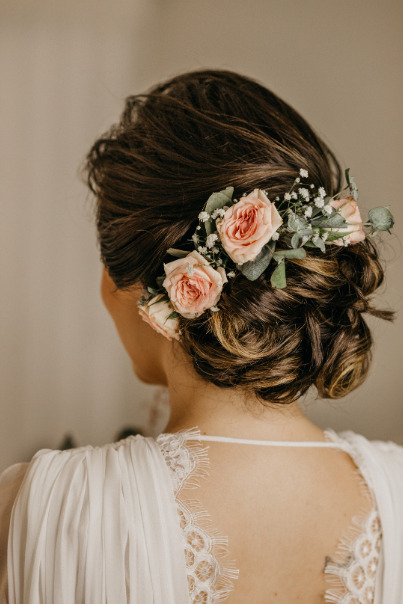 Be ready to change it up based on the weather. Shoes, hair, and makeup are the big components that should be considered. If there is a possibility of muddy and slippery wedding grounds, have your bridal party prepared to change into more comfortable and functional shoes—no one wants their heel to get stuck in the mud mid-ceremony. As for hair, research some updos that can better withstand possible wind and rain. If rain is going to make an appearance on your wedding day, waterproof makeup is a must. Talk to your stylist and plan out some hair and makeup ideas for you and your bridal party that won't budge in the rain. 
3. Communicate with Vendors
No matter what happens make sure you stay in communication with your vendors. Before your wedding, make sure they're equipped to handle indoor or outdoor setups depending on the weather. Although it would be unlikely for the rain to keep vendors away, plan backup ideas for essential wedding components like photographers, caterers, and music/entertainment. Rain or shine, if you establish a strong communication line with your vendors everything should work out smoothly for your wedding day. Wedding World holds a convention on March 3, 2024, that highlights the best wedding vendors in the La Crosse area. Join us to establish a relationship with your future wedding vendors and create that communication line. Keep an eye out on our 'Exhibitors' page for the 2024 vendors.
4. Keep Guests Informed and Comfortable
Along with communicating with your vendors, communication with your guests is extremely important. Keeping your guests up to date on your rainy-day contingency plan based on weather forecasts will allow them to plan accordingly. Functional hairdos, shoes, and dress wear are just as important for your guests as for your bridal party.
5. Prepare for Fun Photo Opportunities
Here are some fun rainy wedding day photo ideas that you can accomplish with the help of a couple of props.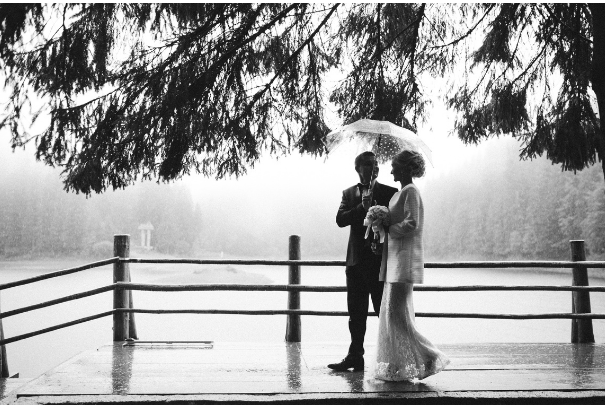 Rain or Shine
At the end of the day, rain doesn't define your wedding day. It's about celebrating your new partnership with loved ones and creating memories you'll cherish for a lifetime. So, if the rain happens to fall on your wedding day, remember that love is like the weather—a force that cannot be controlled, but something that you can choose to embrace with an open heart.