The Role of Wedding Speeches
The most anticipated and cherished wedding moments are held in the hands of those giving the wedding speeches. From vows to toasts, these speeches have the power to capture the essence of the couple's journey, summon laughter, and bring forth tears of joy. Whether you're the maid of honor, the best man, a proud parent, or the one getting married, you might be wondering how to write and deliver a wedding speech. Use this step-by-step guide to help write and deliver a heartfelt wedding speech that won't be forgotten.
Step 1: Understand Your Role
Depending on your role, your speech is going to have a different impact and purpose.
As the maid of honor and best man, you hold a special place in the hearts of the bride and groom. Along with arranging parties and helping with wedding details, you also have the task of delivering a heartfelt speech that captures your friendship while, more importantly, celebrating the couple's love. Focus on honoring the couple, reflecting on rowdy memories, making people laugh, and wishing them well for their future.
As a parent or close family member of the bride or groom, you have a significant role in the wedding. To express your support and blessings, you should focus on celebrating the couple's journey, and memories from your child's life, embracing new family members, and creating a sentimental atmosphere.
As the bride or groom, these wedding speeches are all about you and your partner. If you're writing your own vows, take the time to personalize them to your relationship. Focus on the love and promises you want to bring into your lifelong commitment.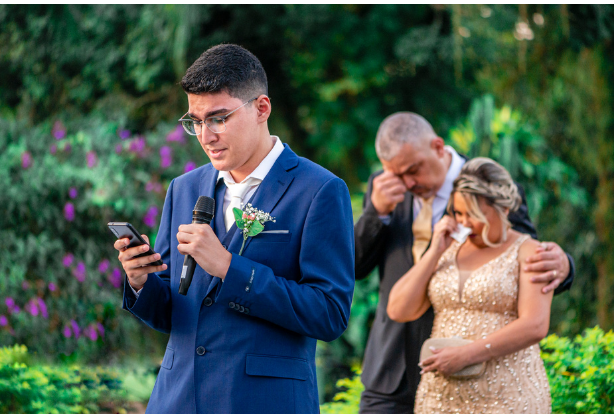 Step 2: Gather Meaningful Stories
When pondering how to write and deliver a wedding speech, it all comes down to meaningful stories. Think back through the memories you have with the bride or groom or both. Do you remember the first time they met? What was their initial impression? How has their relationship changed over the years? What was the moment you realized the love was real? Don't be afraid to talk with friends and other family members—they might remember something you don't.
Step 3: Structure Your Speech
Since wedding speeches are often big moments, it's important to deliver a structured speech. Here's an example of speech structure.
Introduce yourself and your connection to the couple.
Set the tone for your speech with a quote, joke, story, or anecdote.
Tell one or multiple short stories that reflect on the couple's journey, personalities, and love they share.
Highlight the couple's qualities and how they fit together.
Give some words of wisdom or advice (if you have any).
Acknowledge friends, family, and guests in attendance.
Bring it all together and raise a toast.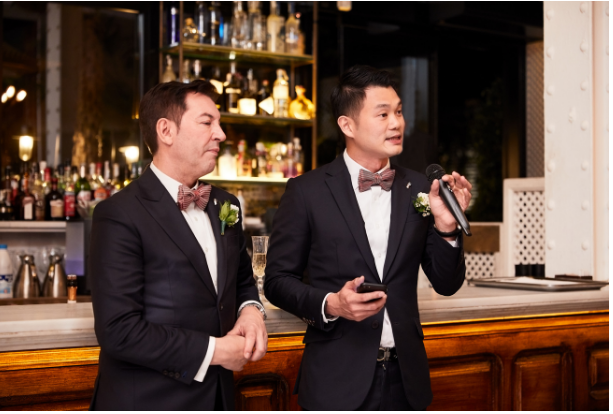 Experiment with the structure of your speech and add personal touches as you see fit.
Step 4: Find the Right Balance
Wedding speeches fit on a spectrum ranging from humorous to sentimental. Depending on your role and the vision you have for your speech, it can truly land anywhere on the spectrum. Whether you're looking to make the audience laugh or cry, balance is often a good way to make a memorable speech catered to everyone.
Step 5: Incorporate Your Personal Touches
If you're making a speech at a wedding, you either know the couple very well or you're the one getting married. Either way, personal touches are a necessary step for the writing and delivery of your wedding speech. Consider anything and everything that you think will be a memorable and relevant way to celebrate the couple.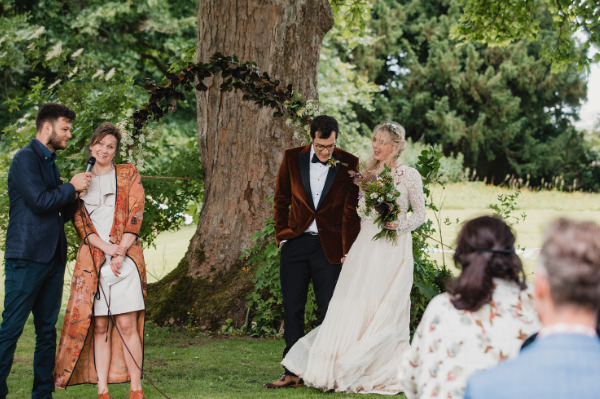 Step 6: Practice, Practice, Practice
Treat this speech like you would a class presentation, but the stakes are higher, as the audience may be hungry, inebriated, or restless. Practice your speech as much as you can so that you will nail it on the day of the wedding. Practice your speech by delivering it to your roommates, your pets, or your plants—anything!
Step 7: Manage Nervous Energy on Wedding Day
Public speaking can evoke nervous and anxious energy, but don't let it drag you down. Focus on your breathing and remind yourself that you're speaking from the heart. Visualize a positive response from the audience and the joy you'll bring to the couple. You're going to do great!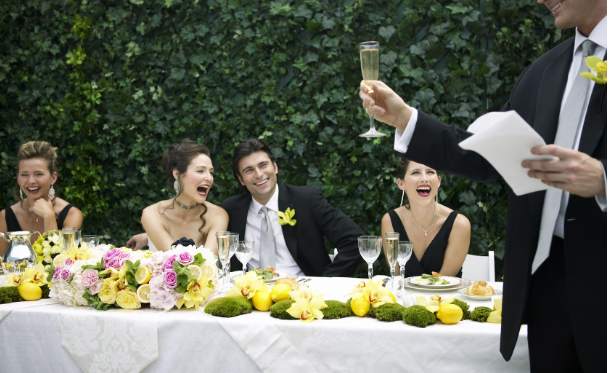 Step 8: Maintain Eye Contact and Poise
The most powerful way to level up your speech is by leveling up your body language. Maintain eye contact with the audience and the couple to ensure intimacy. Stand tall, speak clearly, and use gestures as you see fit. You got this!
Step 9: Enjoy the Moment
Remember that this speech is part of the celebration of love. Embrace the moment, share your words with confidence, and focus on the positive impact you're making.
You're Ready!
After following this step-by-step guide on how to write and deliver a wedding speech, you are ready for the big day! Take your time to make your speech a special and personalized gift that won't be forgotten. Ask a friend or the wedding videographer to take a video of the speeches so you can go back to laugh, cry, and savor the moments made special by those giving wedding speeches. Make sure to share this step-by-step guide with anyone you know who is preparing a wedding speech or toast.
Stay up-to-date on upcoming vendors for the big 2024 March Wedding World event by checking out our exhibitors page on WeddingWorldLaCrosse.com or follow us Instagram and Facebook! Tag us and share your unforgettable wedding speeches!